Liquid I.V. Delivers Rehydration Aid to the People of Haiti
"Our giving partners help us get Liquid I.V. to people around the world who need it most."
Hayden Fulstone
Liquid I.V. Delivers Rehydration Aid to the People of Haiti
Co-Founder Hayden Fulstone talks about his visit to Port-au-Prince, Haiti
---
In April 2016, Liquid I.V. Co-Founder Hayden Fulstone visited Port-au-Prince, Haiti, to deliver Liquid I.V. to those in need. Though the company has been sending cases of its rehydration product to Haiti since October 2015, this was Hayden's first visit- it was important for him to meet some of the Haitian people himself and to experience first-hand how Liquid I.V. was being distributed and received. He made a point of staying in Cité Soleil, one of the poorest slums in Haiti and the Western Hemisphere.
"They're still rebuilding wherever you go," say Hayden. "Everything is cinderblock and razor wire," he says. "The people are hungry which is tough to see."
The island nation is still slowly recovering following the devastating 7.0-earthquake that struck in 2010, but Liquid I.V. is committed to giving back to the Haitian people. To date, Liquid I.V. has donated 34% of all its products to the country as part of an ongoing joint-relief strategy with nonprofit Hands Together. The two organizations are working hard to bring about positive change in Port-au-Prince.
"There's such contrast there," says Hayden. Cité Soleil, he points out, sits along the Caribbean. "It's a beautiful place, the sea is right there, but then behind you there are burning tires and so much trash."
While the destruction after the earthquake—which claimed up to 300,000 lives—was immense, recent disease outbreaks have been especially devastating. Since 2010 more than 770,000 people have contracted cholera from tainted food and water. Symptoms include severe vomiting and diarrhea, and if left untreated it can cause death. This year alone 6,000 Haitians contracted the disease, and on average 37 people die from it each month.
"Liquid I.V. is ideal for people who don't get enough water and suffer from dehydration," says Hayden. He notes that since it's an oral rehydration powder, Liquid I.V. is easy to distribute and use. Also, the product is extremely effective: It can help to rehydrate a person 2-3 times faster and more efficiently than water alone.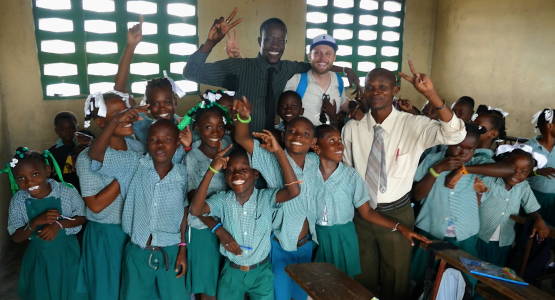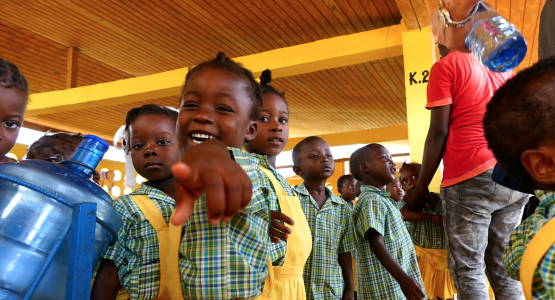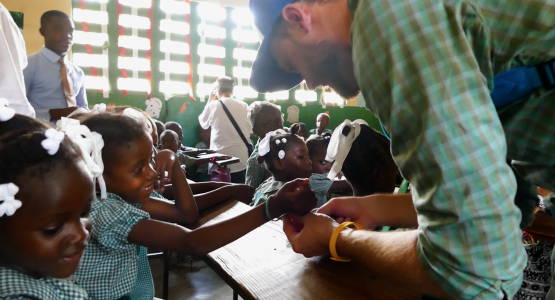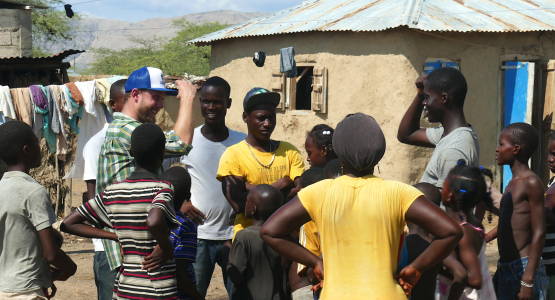 In Port-au-Prince and neighborhoods like Cité Soleil, access to clean water and critical medical supplies like intravenous (IV) fluids is minimal, making it difficult for those afflicted with cholera to recover properly. Liquid I.V., however, is an ideal rehydration resource, making it a valuable tool in the fight against dehydration.
"The Haitians need something to help them combat dehydration," Hayden says.
He notes that Liquid I.V. is excited to work with Hands Together, an educational and development nonprofit that specializes in delivering aid to the residents of Cité Soleil. The organization runs a number of free schools in the community, in addition to an elderly outreach program, a free health clinic, and a housing program.
The nonprofit is also one of the largest employers of Cité Soleil's residents. "Hands Together works to empower the local people," says Hayden, adding that by working with Hands Together, Liquid I.V. can deliver its rehydration product to the people who need it the most.
"Anyway that we can help out makes me feel like we're making a difference," says Hayden, adding that Liquid I.V. plans to donate more product in the future- not only to Haiti, but to other developing nations around the world.

Hydration Station
Read More Liquid I.V. Stories
---