Expert Fitness Advice: How to Blast Body Fat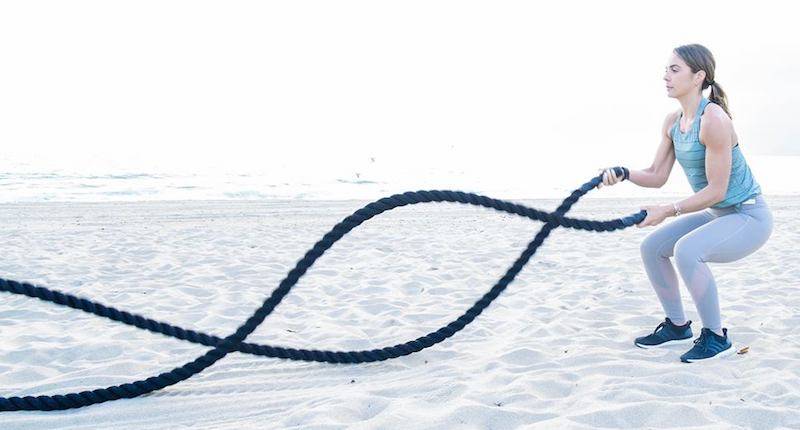 As a Certified Personal Trainer, Registered Nurse and marathon extraordinaire, Becky LaChance knows what it takes to look and feel your best. This Liquid I.V. superfan recently gave us an inside scoop on what she does to keep her body in tip-top shape for the summer. Check out Becky's poolside routine as she reveals her go-to exercises, designed to help you burn stubborn body fat. This 7-step workout can be done anywhere and anytime!
Her Go-To 7 for Blasting Body Fat
#1 BIRD DOGS
Movement: Bird dogs work your core and back muscles by utilizing rotation, reach and balance all in one movement. Begin on all fours and slowly bring your opposite elbow to opposite knee, while keeping the core tight. Then, extend the active leg and arm by reaching forward with your arm and backward with your leg.
Reps: 10-15 on each side
Movement: Start on your forearms in a plank position. Rise into a push-up position by extending one arm at a time. After a brief hold, lower back to a plank position. Continue alternating between the plank and push-up positions while keeping your core tight.
Reps: 10-15
Movement: Strap a resistance band around both legs, just above the knees. With your hands on your hips, take short, lateral steps in one direction. After several steps, return to the starting position by repeating the movement in the opposite direction.  
Reps: 15-20 steps in each direction
Movement: Dumbbell thrusters work your entire body in one athletic movement. Hold a dumbbell slightly above each shoulder and perform a squat. As you return to a standing position, extend your arms above your head until your elbows are fully extended. Lower the dumbbells to the starting position and repeat.
Reps: 15
Movement: Hold a pair of dumbbells just above your shoulders with your elbows high. Step back with one foot and lower into a lunge. Once your back leg nearly grazes the ground, rise and return to the starting position. Switch legs and repeat.
Reps: 12-15 on each leg
Movement: With your arms hanging in a relaxed position, hold a dumbbell in each hand. Slowly lower into a deadlift with a flat back. Once your back is nearly parallel to the ground and the dumbbells reach ankle height, use your back to pull up to the starting position. Be sure to maintain a tight core throughout the entire movement.
Reps: 12-15  
Movement: Not for the faint of heart, finish the circuit with a round of heart-thumping burpees. Start in a standing position and drop down and back into a push-up position. Jump your feet towards your hands and explode off the ground with arms extended and jump straight into the air to finish the movement.
Reps: complete as many as possible in 30-60 seconds
Exhausted? Us too! After completing Becky's fat-blasting circuit, be sure to finish off your workout by properly replenishing your body with an ideal mix of hydration, and five essential vitamins and electrolytes by grabbing your favorite flavor of the Liquid I.V. Hydration Multiplier!
(PS. If you haven't tried the NEW Passion Fruit flavor, we highly recommend you do so now. It's fruity, tart and oh so refreshing!)